, 2022-05-27 10:16:00,
Chip stocks initially fell after market leader NVIDIA Corporation (NVDA) cut numbers for the current quarter. Naturally, the market reacted negatively, selling off competitor Advanced Micro Devices, Inc. (NASDAQ:AMD) in the process. However, that reaction wasn't rational, with the stock already down 50% from the highs. My investment thesis remains ultra-Bullish even after the stock has rallied to $99 following the market realization that the negative guidance from NVIDIA wasn't so bad.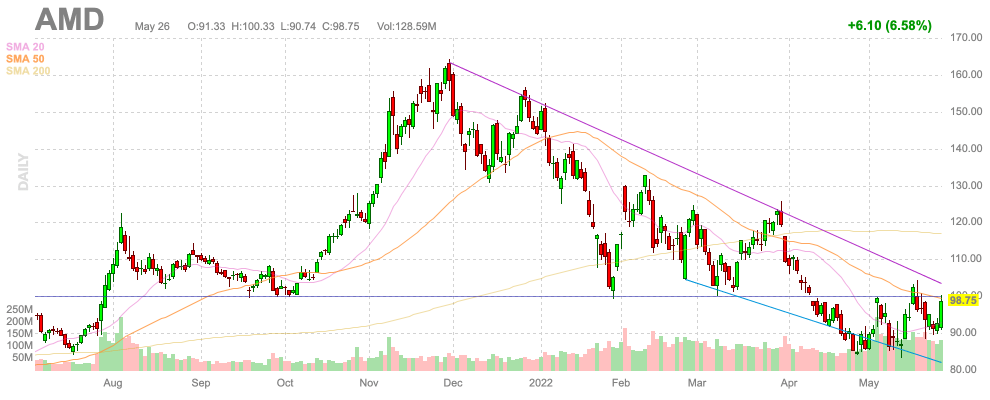 Not So Bad
NVIDIA reported FQ1'22 revenues that easily beat estimates by $190 million; EPS topped estimates at $1.36. The chip company, though, somewhat shocked the market with guidance for FQ2'23 revenues of only $8.1 billion versus consensus up at $8.44 billion.
Investors need to understand the consensus estimate forecast nearly 30% revenue growth for the quarter. The new guidance places revenue growth at a still very strong 25% clip while forecasting a $500 million sales reduction from the Russia situation and China's lockdowns.
Based on the recent guide-downs from Snap Inc. (SNAP) and the weakness in the crypto world, the market likely was expecting some weakness in the GPU segment. CEO Jensen Huang claimed the gaming-segment demand remained strong despite market concerns. Some of the weakness assigned to China, though, could be related to actual lower demand for crypto GPUs from miners, not the Covid-19 lockdowns. Per the CFO in the FQ1'23 commentary, Colette Kress was clear the cryptocurrency mining sales are difficult to track:
Our GPUs are capable of cryptocurrency mining, though we have limited visibility into how much this impacts our overall GPU demand. Volatility in the cryptocurrency market – such as the recent declines in…
,
To read the original article, go to Click here