, 2022-05-18 18:59:00,
Cryptocurrency such as Bitcoin (BTC-USD) is such an unusual asset class in that it is uniquely bad when its price falls. As a value investor, I like investments that have fallen and are now cheap. Crypto has collapsed, but it still isn't cheap.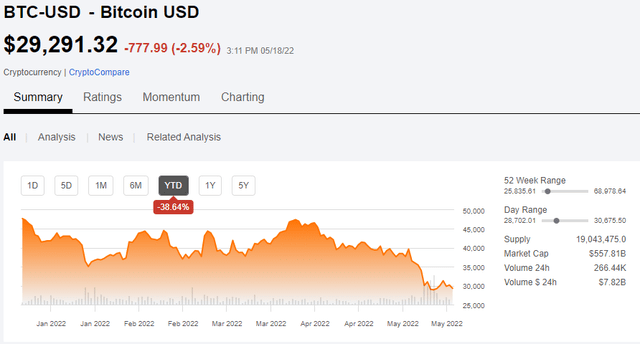 In fact, there is no price at which it becomes cheap. It is one of very few assets that does not become a better value as the price falls.
When the S&P drops such as the ~20% it has dropped this year, it becomes a higher return investment going forward.
When the Dow or NASDAQ drops its constituents on average become higher returning investments going forward.
Even binary speculative stocks get a better reward to risk ratio as they get cheaper.
The mechanism in each of these is similar in that they offer earnings or in the case of speculative stocks the potential for earnings. When price gets lower, one's investment buys more earnings which makes these better buys as the market price drops.
Why Earnings Matter
I get that the stock market feels like a popularity contest. Stocks go up and down based on preferences and whims, but if we take a step back and really learn the underlying mechanisms of valuation, there is an inevitability to market prices moving toward fundamental earnings potential.
In the long run, it is a mathematical certainty that earnings will matter.
It all boils down to what present value actually is – all future payments to shareholders discounted back to the present.
Every dollar earned eventually goes toward payment to shareholders.
The most direct route is dividends paid by current earnings.
The indirect route is retained earnings being reinvested in the business and in turn generating more earnings. The extra earnings will eventually facilitate…
,
To read the original article, go to Click here